» NEW BOOK RELEASED
October 13 - The Boggy Creek Casebook is here! Click here for more info.
» SINISTER SWAMPS
Do you dare enter the sinister swamp?! Click here for more info.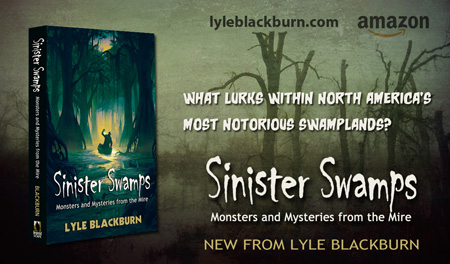 » LYLE'S HOME OFFICE TOUR
Take look inside Lyle's monster office in this special 'Cryptids and Creatures' tour. Click here to view.
» AMERICAN MONSTER TOUR
Watch the complete, unaired pilot episode of a tv series concept called "American Monster Tour" featuring Lyle Blackburn and Ken Gerhard. (Available exclusively on YouTube.) Go to: https://youtu.be/Y8FZYJEsgmM
» MISSOURI MONSTER FILM
Lyle has a feature role in the Small Town Monsters film, MOMO the Missouri Monster. Click here for more info.
2020
» Oct 16-17: Texas Bigfoot Conference - Jefferson, Texas
» Nov 07: Boggy Bottom Bigfoot Conference - Coalgate, Oklahoma
Visit Lyle's Monstro Bizarro online store for autographed books, Boggy Creek apparel, dvds, and other unique items: www.monstrobizarro.com
For more information about Lyle's books, click on its image below: