BUY DIRECT (signed by author!)

AMAZON (print or Kindle)

BARNES & NOBLE (print or Nook)

iTunes (iBook)

B and B Books (print)

Monster Mart - Fouke, AR

Museum of the Weird - Austin, TX

Bigfoot Books - Willow Creek, CA

by Lyle Blackburn
Foreword by Loren Coleman
Illustrations by Dan Brereton
Hardcover, Trade Paperback, eBook / Anomalist Books
258 pages / 37 photos / 17 illustrations

-------------------------------------------------------

For more than a century, reports of a strange beast known as the Fouke Monster have circulated among the locals in southern Arkansas. Described as a large, hairy man-like creature, it's said to haunt the vast Sulphur River Bottoms as it travels the secluded waterway known as Boggy Creek.

Over the years, the creature has been seen by numerous witnesses including respected citizens, experienced hunters, famous musicians, and even a police officer. The encounters were often so shocking, they served as inspiration for the classic horror film, The Legend of Boggy Creek, by Charles B. Pierce.

Tales of the creature have long existed in scattered pieces across news clippings, memoirs, police reports, and movies, but it is only now that the complete history of the Fouke Monster has been assembled in one place. This book collects all the facts, theories, and amazing sighting reports, and weaves them into a fascinating tale about this undeniable southern mystery, one that lives on, as frightening encounters with the Beast of Boggy Creek are still being reported today!

-------------------------------------------------------

Includes a detailed sighting chronicle with over 70 visual encounters near Fouke, Arkansas!

Also includes a breakdown of all scenes in The Legend of Boggy Creek, tracing them back to the actual sightings on which they were based!
Review quotes...
BEST CRYPTOZOOLOGY BOOK OF THE YEAR (2012)
- Cryptomundo (Loren Coleman)
"An extremely enjoyable and spooky ride."
- Sean Whitley, director Southern Fried Bigfoot
"Amazingly researched and absolutely gripping."
- Dave Alexander, editor Rue Morgue magazine
"Blackburn adeptly weaves the stories, interviews and observations into a page-turner."
- Ian Clark, New Hampshire Sunday News
"Destined to become a cryptozoological classic!"
- Nick Redfern, author of Monster Diary (and countless other books)
"... a first-rate piece of journalism."
- Bob Yarger, Texas Bigfoot Research Conservancy
"I could not put this book down."
- Neil Arnold, author of Monster! : The A-Z of Zooform Phenomenon
"A must have for all movie fans, history buffs, and bigfooters!"
- Kathy Moskowitz Strain, author of Giants, Cannibals & Monsters
"Blackburn shows himself not only to be a first-rate researcher but a formidable writer;
his book is not just a mine of information but a genuine pleasure to read."
- Fortean Times
"A coherent, thorough and entertaining yarn."
- Aaron Brand, Texarkana Gazette newspaper
"Lyle shows himself not only to be a first-rate researcher but a master of the written word."
- Richard Freeman, The Centre for Fortean Zoology (CFZ)
"Found this book by accident. Ordered it one day later & am glad I did. Worth every penny of purchase price. A fascinating book written in a very factual straightforward style. Lyle Blackburn should be commended & congratulated for coming out with such a cryptozoology classic. Even if you don't believe in Bigfoot. Buy this book & read it. You certainly won't be sorry you did."
- customer review at Amazon
"Blackburn has written is a top notch treatment of this famous monster of the south. And he does this in a clear, concise, well organized manner. Don't be surprised if you find yourself glued to the book like me."
- customer review at Amazon
"The book is, to put it in one word "Awesome!" This is not a book that Lyle took a couple of stories and slapped a cover on it. He has done his homework, that I suspect, involved a lot of road trips to Fouke and Jonesville and to local newspapers. Not only is it well researched, but the whole format keeps you glued to the pages. It's really is hard to put down once you start reading it."
- reader comment at Cryptomundo.com
Full reviews...
Links to in-depth reviews: Cryptomundo | Still on The Track | TBRC | CFZ
Gallery ...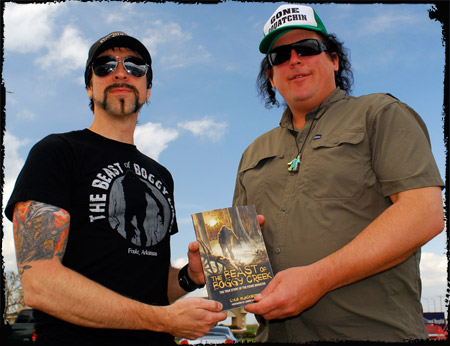 BOBO from Animal Planet's FINDING BIGFOOT shows off his copy with Lyle
About the Author...
For more information about the author, return to Lyle's website at: www.lyleblackburn.com